Building Better Athletes…
One Day
At A Time
KD Performance Centre | 6020 2nd Street SE – Unit B9
Customized Coaching
Unlimited Support
Exceptional Results
We all want the same thing when it comes to training. We want the best results and we want them in the most efficient way possible. Go on Google and you will find thousands of different promises to the tune of "get _ result in _ amount of time." I hate to be the one to break this to you… but there is no magic secret that will turn you into the top athlete or help you achieve that dream you've always had sitting in the back of your mind.
There is only one way to do it...
Find the training you enjoy and continue to adapt and evolve that training as your needs change. Or ideally… have a coach by your side to help you achieve more than you could have ever hoped for on your own.
It's simple, but it's not easy. It is all about hard work and consistency.
That is why I created Coach Dusseault Conditioning. My aim is to cut through the false promises, destroy excuses and create the best version of themselves that exists in everyone. I do this by catering to individual needs, not some magical method. My goal is to create a routine that works and can deliver elite results to your day-to-day performance. Whether you are an athlete working towards the pinnacle of your sport, or a business owner with a dream of doing what you love to do every day, or just someone looking to finally find a fitness routine they can stick to, I am here to work with you to achieve those results.
Our mission is to change the standard of the Elite Performance industry through a long-term approach focused on health and longevity.
We believe greatness comes from an individual's desire for consistent improvement. By developing an elite performance mindset and consistently striving to improve yourself, you will begin to impact those around you, creating large-scale change. Whether you are an athlete looking to reach the pinnacle of your sport, a business owner trying to make your dream come true, or someone needing to make a positive change in your life, our goal is to help you create the BEST version of yourself.
We do this through our core company values.
1. Self Awareness – Every athlete is DIFFERENT. This means that when you start working with Coach Dusseault Conditioning you are your own person! Our goal is to really get to the bottom of what makes you tick and how we can get the most out of YOU. Training is built around your goals and dreams for your sport and we are going to build the best path we can to get you there!
2. Positivity – This doesn't mean you must be blindly positive about everything. Positivity to us means that there is no mountain that cannot be climbed. When you have a setback, it is easy to feel like life is crashing down around you. However, if you manage to stay positive and look for the next step forwards, you are consistently putting yourself on a path for success.
3. Work Ethic – We believe that work ethic is constantly developing. We understand that 100% each and every day is not always possible, but we expect our athletes and clients to consistently come in and consistently give everything they can to their sessions. The BEST way to get the best result is consistent hard work and dedication from athletes and coaches alike.
4. Accountability – This is a crucial element of training, and life in general. Our coaches are here to give you guidance. We are also here to keep you accountable. If you trust us enough to help you with your training, we will do everything we can to ensure that you achieve every goal you set out to. Whether you are an athlete taking the next step in your career, or simply someone taking the next step towards a healthier lifestyle, we are here every step of the way.
Elite Athlete development
Get away from cookie cutter programs written up on a whiteboard designed to simply 'make you sweat'. Gain a true understanding of how to train for sport performance. If you are an athlete looking to make it to the next level in sport you need a strength and conditioning program designed specifically with YOUR needs and YOUR goals in mind. 
From grassroots straight through to the professional ranks, we can help! 
Online Training
* Receive customized programming based off of your goals and training needs
* Gain access to our exercise library with over 200 videos and counting
* Have full access to your coach to answer questions and review training technique through videos
* Options available for both Elite Athlete Development & Personal Training 
Personal Training
Train like an ATHLETE! This doesn't mean you have to be doing all the same things as the pros, but the goals of training remain the same. Get the best results in the least amount of time. Train with purpose and intent. Understand what you are doing and WHY you are doing it! Become the best, healthiest, happiest version of yourself to take into your every day life!
Custom Program Design
If you don't like the idea of working hands on with a coach, I understand… It may not be for everyone. However, maybe you are just looking for some guidance in your training! If that is the case, our program design service is for you! 
Sit down with a coach for a quick consultation (online or in person) and we will build out a custom program for you with options for 4, 8, and 12 weeks!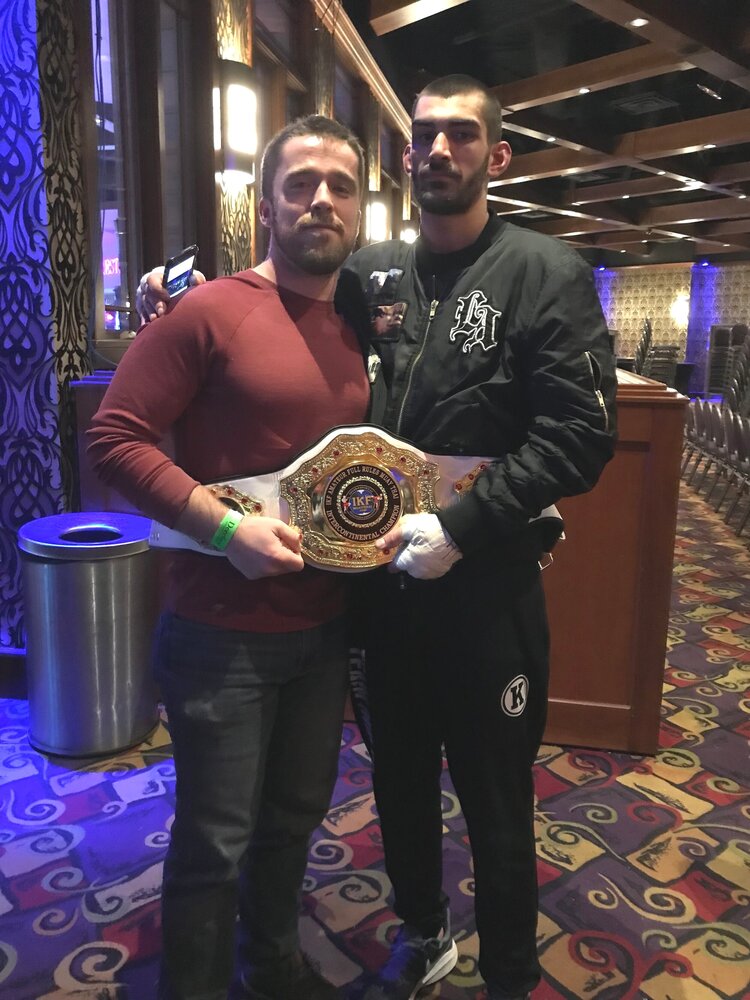 – Professional MMA / Muay Thai Fighter Mac Laursen shortly after winning IKF Intercontinental Title in October 2019
"Kenny elevated my game on every level athletically which makes it easy to focus solely on my craft. If something doesn't work we modify, if something hurts we modify. We are always working together to get the best results!
Coach Kenny took my game to another level"
"Kenny has by far been the best coach I have met within the Strength & Conditioning industry. The training we have done together certainly translated to my game on the ice, making me faster and stronger. Training with Kenny you will learn how to put your ego aside and focus on making yourself a better athlete day by day. He will really push you towards your goals and keep you focused. If you want results, Kenny is your guy!
"I couldn't be happier with the online program design service I received from Kenny Dusseault. I was looking for a program customized to meet my needs, tailored both to my busy schedule and to specific areas of fitness that I felt I needed to address.
I would highly recommend Kenny for any personal training program."